Mental Health Professionals
Nurture Harmony Private Hospital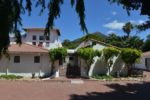 Service Provider Name:
Nurture Harmony Private Hospital
Service Description:
With 12 years of rehabilitation experience, Nurture Harmony's client-centred programme gives patients the very best chance of making a full recovery the first time around. Nurture Harmony provide treatment that focuses on person-centred care, engagement, skill development and trauma-focused interventions. Striving to ensure that people have choices and become an active voice in their treatment. Nurture Harmony are the facility of choice, due to a compassionate team, gold standard facility and world-class programme.
Send Message to listing owner